×
Warning!
The information on this page is available
only for the Spanish market
, if you need more information for your market, then we will contact our partner.
---
Automatización línea Ramatech
Adaptación de las máquinas de Ramatech con un plataforma móvil para desplazar todo el conjunto a través de las bobinas motorizadas.
El software SoftWinding enlace el sistema informático del cliente con las máquinas Ramatech y desplaza la plataforma automáticamente a la bobina de la estantería.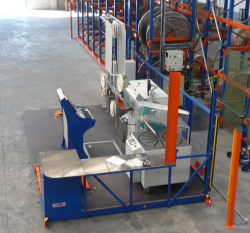 ---