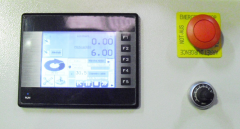 Capacity of up to 999,999.99 meters or in inches, added cm by cm, a touch TFT colour screen of 7" with measurement indication, pre-selection and working situation.
The counter obtains the measurement from a 500p encoder assembled on the measurer unit which obtains a high precision value of the cable measured, all of which is assembled with the corresponding couplings and protection.
Using two pre-selection values, one for dragging and the other for the final measurement, a perfect measurement is obtained and by this way you avoid the typical measurement error that is produced by machine inertia when you have only one preselection.
Features

START/STOP button for start and finish of the winding from the screen and from physical buttons.
Manual push button enables slow speed winding when protection is opened and always while the button is pressed.
Pre-selected quantity, coil speed and working indications are displayed on a illuminated screen.
On screen display of cable pitch if the machine is fitted with an electronic cable layer.
Fast key to enter the measurement pre-selection.
Alarm and fault indication indicated on screen.
Hydraulic automate control (if the machine has one available)
Working hours and meter totalizers.
Can be connected to a PC for handling orders, for meter control and printing.
Possibility of extending I/O to automate the machine.